Regular price
Sale price
$47.00 USD
Unit price
per
Sale
Sold out
Matching Hockey Socks:

View full details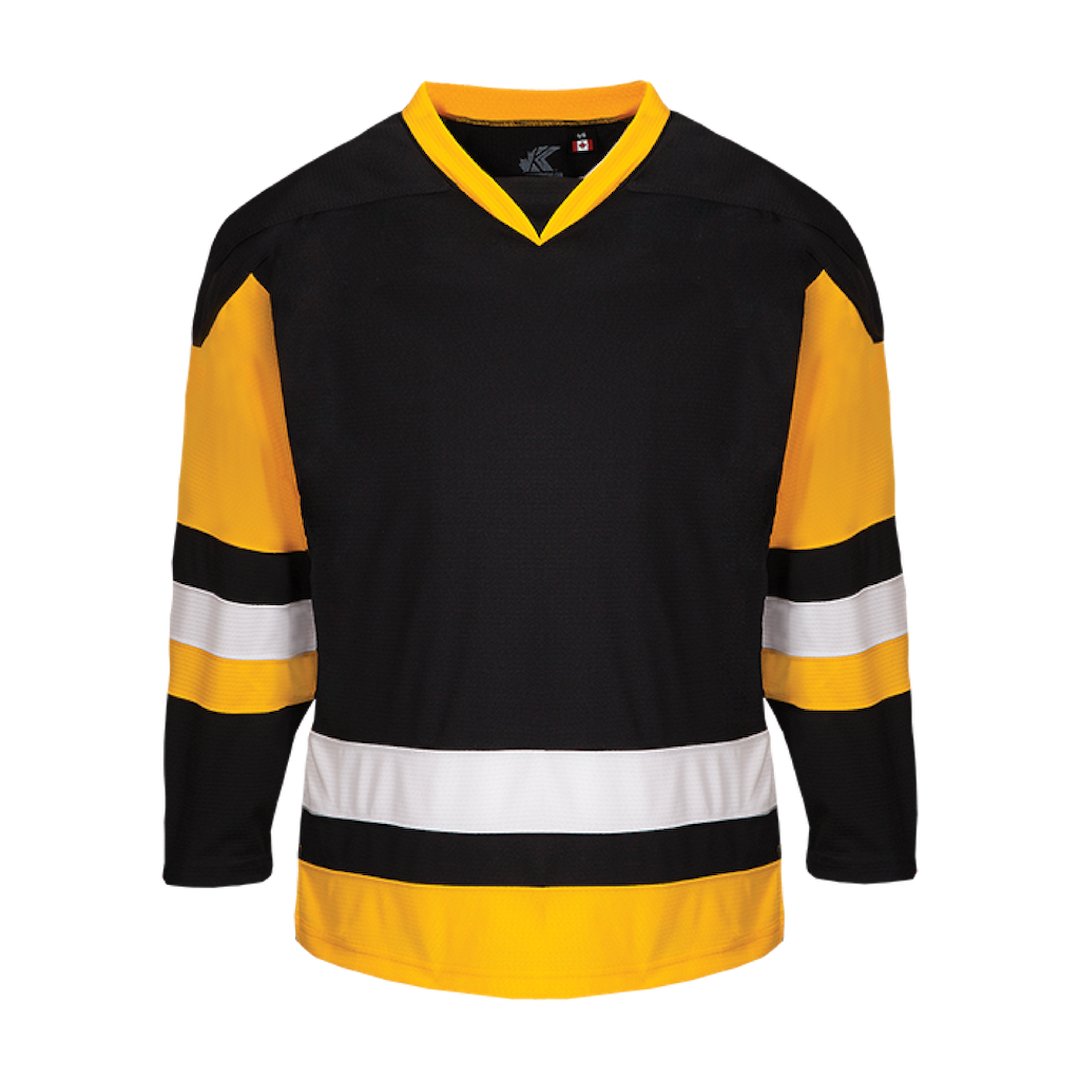 About the Kobe K3G Pro Hockey Jersey
Find a better jersey. We dare you.

Kobe Sportswear has been in the jersey-making game for 30+ years and they love flexing their flagship model, the K3G Pro. This model has been a favourite for both minor hockey associations and beer league teams across North America for over 15 years.

The K3G Pro now boasts over 120 in-stock blank jersey patterns with striping matched precisely to their corresponding NHL, NCAA, or feature film jersey.

Don't need printing? Blank hockey jerseys ship within 1-3 days of ordering from a Toronto-based warehouse.
More on the Premium Pro Hockey Jersey
Bulk Pricing/Volume Discounts

All Kobe Sportswear products purchased in the same order get "bundled" together to give you the best possible pricing.

Mix-and-match any model of stock jerseys, socks, or pant shells and receive quantity breaks based on the total number of Kobe items in your cart.

See product descriptions for the appropriate price breaks for each item.

Additional savings are automatically applied to your cart at each of the following quantities:

• 3-11 units
• 12-24 units
• 25-49 units
• 50-99 units
• 100-299 units
• 300-499 units

500+ units?

Please call 1-888-352-7999 or email orders@jerseysmadeeasy.com
Jersey Cut Details

• Double-stitched shoulders and elbows

• Available sizes:
Adult (S-3XL)
Goalie cut (youth, intermediate, adult 2XL, and adult 4XL)
Youth (XS-XL)

• Collar: matched to the collar of the corresponding pro jersey

Fabric Type

K3G fabric, Kobe's flagship pro weight fabric (100% polyester).

This fabric is durable and very quick to dry. We have customers who continue to use K3G jerseys they purchased 10+ seasons ago.

It does not shrink when washed. If decorating, we recommend washing inside-out and air drying.

Please note: Colours are meant to be accurate enough to easily identify which team each pattern represents, but the degree of colour accuracy varies by team. Although striping is matched to NHL teams, colours are all a "close match" and not meant to represent authentic, replica jerseys. Officially-licensed replica NHL jerseys utilize many shades of fabric specific to each team.

Kobe Sportswear utilizes a smaller number of colours to keep fabric costs down. These jerseys are purpose-built for recreational/amateur hockey, not for the purpose of souvenirs or replicas. As such, many teams that have slightly different shades of a colour will see Kobe use the same colour for all of them (e.g. Detroit, New Jersey, and Chicago all utilize the same "red". Kobe also utilizes only 8 shades of blue across all jerseys whereas official NHL jerseys utilize well over a dozen blues).

If you are looking for an official replica jersey for collecting purposes we do not recommend this product.
Companion Products

All Kobe K3G jerseys have a matching K3G Pro Hockey Sock (new style, "mesh" sock using the same fabric as the jersey). Most K3G Pro jerseys also have a corresponding Kobe 9800 Pro knit hockey sock.

Please see the product description for links to the appropriate matching sock(s).
Manufacturing Location

Kobe K3G Pro jerseys are cut and sewn in Scarborough (Toronto), Ontario, Canada using imported fabric. Read more about Kobe Sportswear here.

This is one of the last stock models of jersey from any brand to be made in Canada.