Custom team sports uniforms done right
Being a rec sports team captain, manager, or coach is a thankless job, but someone has to do it! Trust us: more than half of our office have voluntarily run leagues or coached teams at some point in our personal lives. Sometimes it might feel like a hassle, but take is as a sign of respect that your teammates trust you, more than anyone, to get the job done.

Getting it done requires a lot of work though (we know you know that):
Getting consensus on jersey designs
Compiling sizes and numbers
Collecting money
And best of all...getting it all done on time.

That's where we come in! We like to think of ourselves not as a store, but as a partner. Team sports are as much a social activity as they are a physical activity. What better way to come together as a squad than rocking a set of unis that makes your opponents ask "where'd you get those?"

We look good when you look good!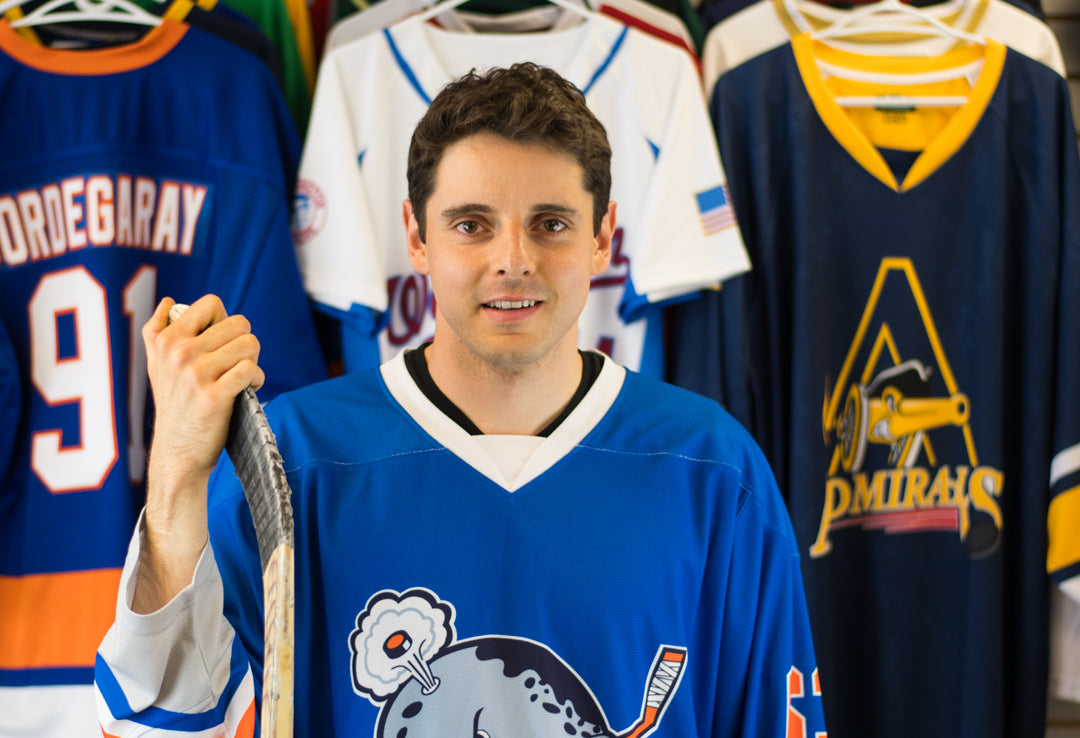 Crafting beautiful jerseys since 2014
JerseysMadeEasy.com was founded in 2014 with the goal of simplifying the process of ordering custom hockey jerseys. When we realized people kind of liked us we continued to expand our offering to include hockey accessories (e.g. pant shells, skate mats, etc.), other sports (ball hockey, baseball, soccer, basketball, etc.), and in 2020, we spun SwagandSafetyMadeEasy.com off as a separate brand for our corporate customers.

Although we've outfitted thousands of teams and 50,000+ individuals with jerseys since our inception we feel like we've only just begun. Whether it's 12 or 1200 jerseys, we're equipped and experienced in handling orders both big and small. Whether you're an individual team, a league, a tournament, an independent influencer, a major brand, a not-for-profit or charity, a special event, or any other of the dozens of use cases we've helped customers with, we'd be more than happy to help you create the perfect jersey.
Who is JerseysMadeEasy.com?
John, Founder/Owner

As a small business owner, John's role is "a little bit of everything", from customer emails to pricing to finance management and everything in between.

Prior to JME, John graduated from Wilfrid Laurier's BBA program and worked as a management consultant.

Outside of JME, John enjoys spending time with his son and his partner, playing sports, traveling, and learning anything he can get his nose into.

Perry, Sales

Perry is JME's longest-standing employee, having begun his tenure in 2018. Perry is most customers' first point of contact, quoting and directing them into the product that best fits their needs.

Prior to JME, Perry enjoyed a 35 year career as an executive in the grocery industry where he became familiar with almost every small town in Ontario.

Outside of JME, Perry enjoys spending time with his family, running, gardening, reading, and watching his beloved Habs.

Kat, Order Co-ordinator

Kat has been with JME since 2021 as the office "utility" person. Kat's role is to ensure customers' visions become reality, including order approvals, scheduling, and production oversight.

Prior to JME, Kat obtained a BMath from the University Waterloo, worked in the financial technology industry, and homeschooled her children for many years.

Outside of JME, Kat enjoys spending time with her pets, camping with her family, and volunteering in her community.

Nomer, Graphics

Since 2022, Nomer has been JME's resident Michelangelo. When customers see his designs they can't wait to get their orders in their hands. Nomer also assists with website graphics and building our logo library.

Prior to JME Nomer earned a degree in IT and spent nearly 8 years as a designer with 2 separate sportswear companies.

Outside of JME, Nomer is an avid cyclist, regularly riding several hundred KM at a time. He also enjoys spending time with his church group.

Randy, Art Director

Joining JME in 2022, Randy has the most industry experience on the team. His art role extends beyond customer mockups as he also assists with new product development and art template creation.

Prior to JME, Randy owned and ran Jango Sportswear for 11 years. He also worked as a jersey designer for another combined 11 years at both ProJoy and MGU.

Outside of work, Randy enjoys his home gym, keeping his 3 teenage sons out of trouble, and working on his personal artistic creations.

Noam, Business Analyst

Noam joined the team as a co-op student in 2023 and we refused to let him leave. While Noam's work may be in the background, the impacts are huge as he implements new technology systems to improve our workflows.

Noam is currently working towards a dual BBA/BMath degree at Wilfrid Laurier University and University of Waterloo.

Outside of JME Noam enjoys baseball, engaging with the Jewish community, and all of the regular student "activites" you might expect.