Regular price
Sale price
$19.00 USD
Unit price
per
Sale
Sold out
Matching Blank Hockey Jerseys:

View full details
About the Kobe 9800 Knit Hockey Practice Socks
Why fix what's not broken, right?
"New style" mesh hockey socks have been around for over 15 years now, yet we still see about 50% of our customers spring for the old, reliable knit hockey socks.

What's kept them around, you ask? They're less expensive, have more forgiving sizing, and "hug" the shin pad more tightly than more modern socks.

The 9800 knit hockey practice socks are a great no frills, multi-use option. Pick one of 14 solid colours and find yourself with a conservative look that will jive with more than one of your teams. Socks are all in-stock and ready to ship from a Toronto-based warehouse within 1-3 business days!
More on the Knit Hockey Practice Socks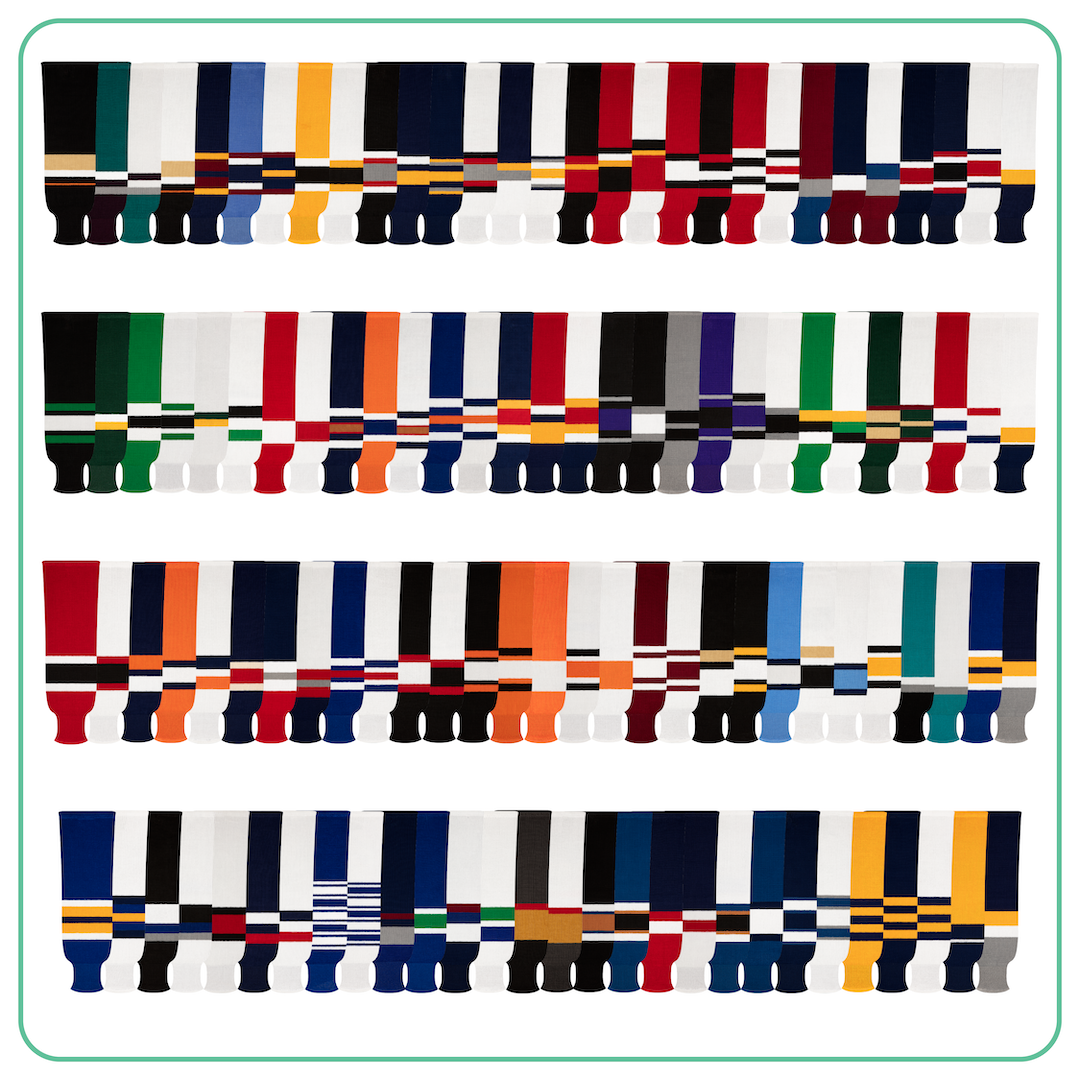 Bulk Pricing/Volume Discounts

All Kobe Sportswear products purchased in the same order get "bundled" together to give you the best possible pricing.

Mix-and-match any model of stock jerseys, socks, or pant shells and receive quantity breaks based on the total number of Kobe items in your cart.

See product descriptions for the appropriate price breaks for each item.

Additional savings are automatically applied to your cart at each of the following quantities:

• 3-11 units
• 12-24 units
• 25-49 units
• 50-99 units
• 100-299 units
• 300-499 units

500+ units?

Please call 1-888-352-7999 or email orders@jerseysmadeeasy.com
Sock Cut Details

• Available sizes:
S (20")
M (24")
L (28")
XL (32")

These knit hockey socks can stretch an extra 2-3 inches. Due to the cotton content, they can shrink up to 4 inches in a washer/dryer cycle (the more heat applied, the more they will shrink). To avoid shrinkage we recommend washing in cool water and air drying.

Please note: There is no "adult" or "youth" sizing in socks. For example, almost all adult men will wear at least a medium (26") sock.

Sizing increments vary substantially by sock model and brand. The most accurate way to determine sock sizing is by measuring the length and finding the correct length required.

Fabric Type

All Kobe knit hockey socks are 65% polyester, 35% cotton (150D yarn).

See sizing tab for details on potential shrinkage.
Companion Products

Kobe 9800 knit hockey practice socks are meant to match basic (5400) and premium (5475) hockey practice jerseys from Kobe. That said, they can work with any team that contains a matching colour!

Please see the product description for links to the appropriate matching jersey.
Manufacturing Location

Kobe 9800 knit hockey practice socks are manufactured in Scarborough (Toronto), Ontario, Canada using imported fabric. Read more about Kobe Sportswear here.

Because knit hockey socks utilize special, dedicated machines not used for manufacturing other products (e.g. jerseys, mesh hockey socks, etc.), backorders tend to be less frequent and shorter in the event they do occur (typically 2-3 weeks).