Renowned Graphic Artist Joins JerseysMadeEasy.com 
Here at JerseysMadeEasy.com, we've had the good fortune of hiring Randy Stiles, a well-known graphic designer in the Canadian custom sportswear industry. In this blog we're going to talk about some of his experience (including owning Jango Sportswear), what he enjoys about his job, and why we're glad to have him.
Did you work with Randy in the past? Randy still has all of his old artwork on file, should you be looking to re-order.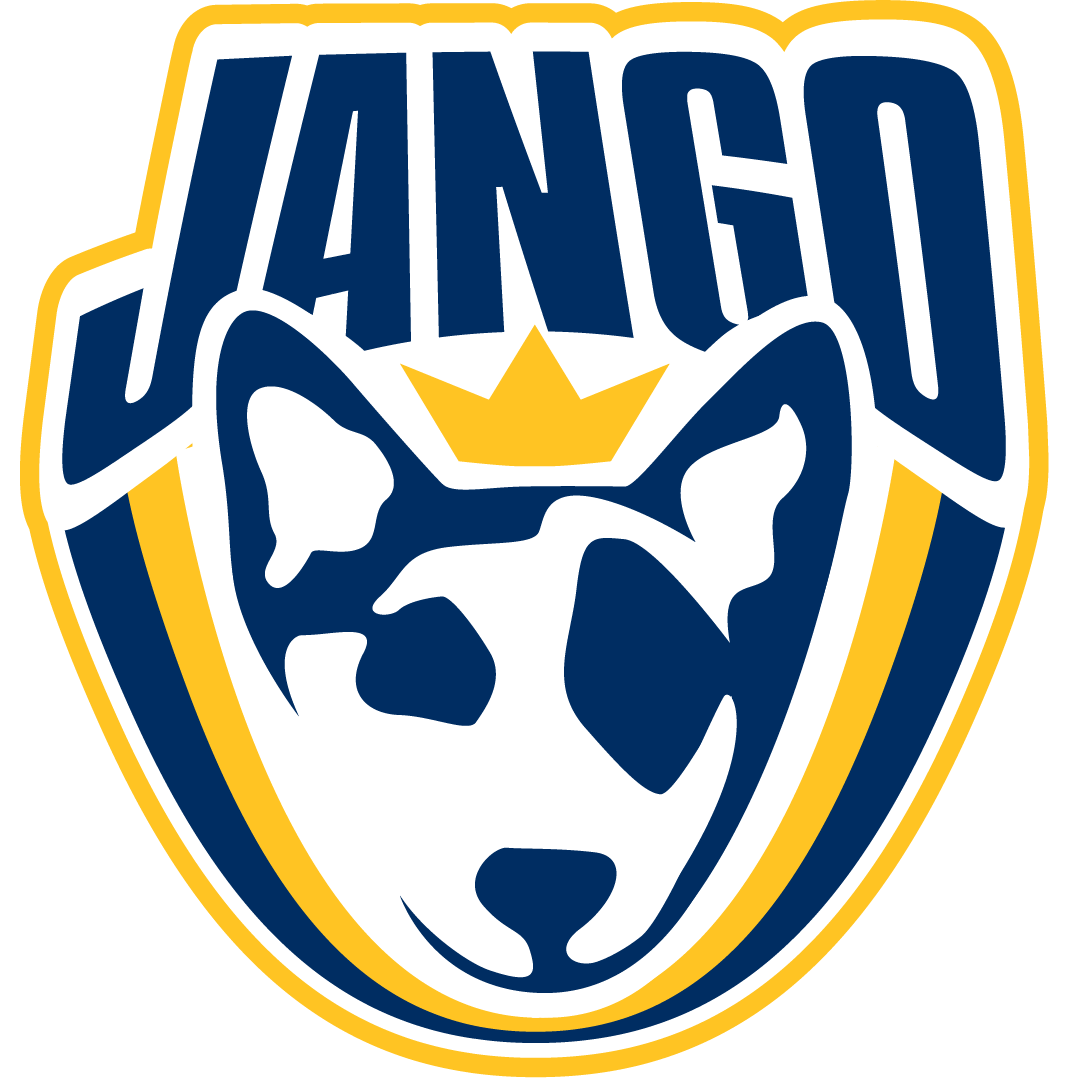 Randy's Work Experience at ProJoy, Jango Sportswear, and Magnum Sportswear (MGU)
His resume is as long as anyone in the custom jersey industry
Randy's experience pre-dates when all work was prepared on the computer. He fondly remembers having to manually scale patterns to fit different sizes of jerseys in his early days! Randy's career started at ProJoy, where he worked from 2000-2006. ProJoy, a Guelph-based custom sportswear company, was a pioneer in sublimation printing in Canada at that time.
Hungering for career growth in 2006, he ventured to start his own company, Jango Sportswear (named after his dog, Jango). Randy took his knowledge of sublimation printing and was a force in making it a more "mainstream" style of sportswear printing. Having the sublimation machines is only half the battle. Randy's catalogs showcased page-after-page of design concepts to inspire people to get more creative with their uniforms. He even went as far as to theme his catalogs like comic books with his original artwork. Randy's art paved the way to popularize many of the louder, less traditional sweater designs you now see in mens' league hockey across Canada and the United States.

Jango was a little bit different than JerseysMadeEasy.com. Where we work directly with team captains, leagues, and other end-users, Jango sold through distributors, primarily sports stores and promotional product retailers (like ourselves). These distributors brought Randy a range of customers from all over the country. While Randy was most known for his hockey and baseball, his experience has also seen him develop uniforms for: cycling, lacrosse, motocross, track, soccer, basketball, and more etc. Check out our blog about sublimation to learn more about this style of jersey decoration.
During Randy's 11 year tenure with Jango (2006-2017), Randy's family grew as he fathered 3 sons. Looking to spend more time with them and relieve himself of the stresses of being a business owner, Randy closed Jango and became Art Director at Magnum Sportswear in Markham, another sublimated sports uniform manufacturer where he continued to work until we convinced him to join JerseysMadeEasy.com in late 2022. What we're trying to say is, Randy has a little bit (okay, a lot) of experience in custom hockey jerseys.
Keep Scrolling to See More of Randy's Work at Jango

Innovation is Key to Randy's Success
Pioneered city skyline jersey designs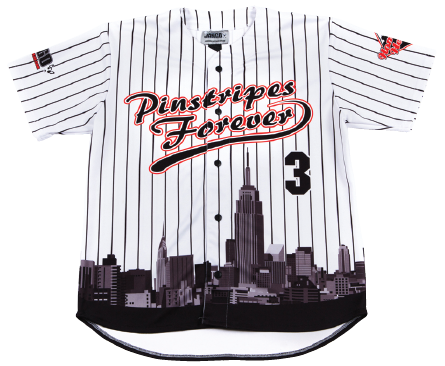 An example of a city skyline jersey
When we asked Randy why designing sportswear is exciting for him, he explained that he loves to experiment and try new concepts/designs. Randy believes to have pioneered the practice of having a city skyline at the bottom of jerseys, which has become popular in the industry.
This Pinstripes jersey is one of Randy's creations, where you can see the skyline graphic at the bottom. This is a jersey that would turn heads on the field without a doubt.
If you're a sucker for cool and unique baseball jerseys, do we have something for you! This blog is all about Randy's best Baseball jerseys that he's made over the years.
It's the Details that Matter
Designing hockey jerseys with stylized collars
Interested in Custom Jerseys Since Childhood
Randy collected hockey jerseys when he was young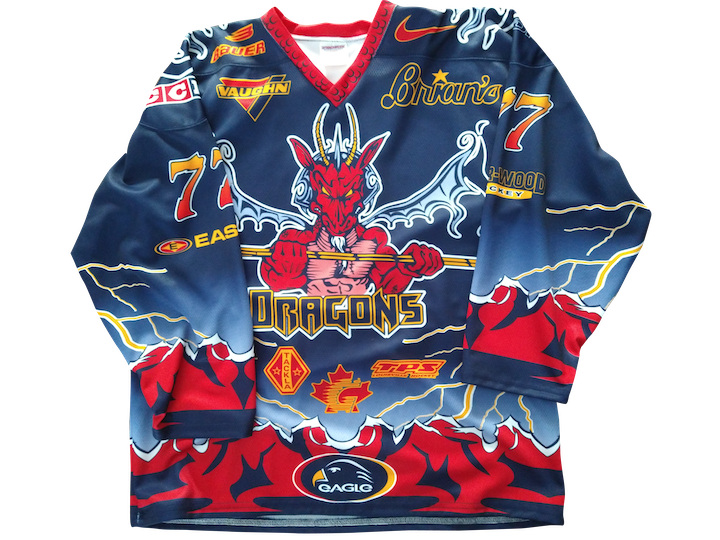 One of Randy's early designs from 2001
As it turns out, Randy's wanted to do this kind of work since he was a kid. On a Grade 1 assignment, he wrote that he wanted to be a "hockey player or an artist" when he grew up. Later, he crossed out the "player" part of his answer to say he wanted to be a "hockey artist".
Funny enough, his dreams came true. It's safe to say that Randy has the bug for all things hockey aesthetics.
What makes us most excited to work with Randy is his motivation to satisfy his customers. In his words, he loves "creating something where people love wearing it and it turns heads." You can come to Randy with a vague idea of a logo, or with specific designs. Either way, he's going to make sure you're satisfied with the end result. In fact, he loves it most when you have a vague idea of what you want him to design, because that's when he can get creative and make something fresh/new.
Some of Randy's Favorite Designs
Below are some of Randy's personal favorites from his time at Jango Sportswear and Magnum Sportswear, as well as some of his commentary about them.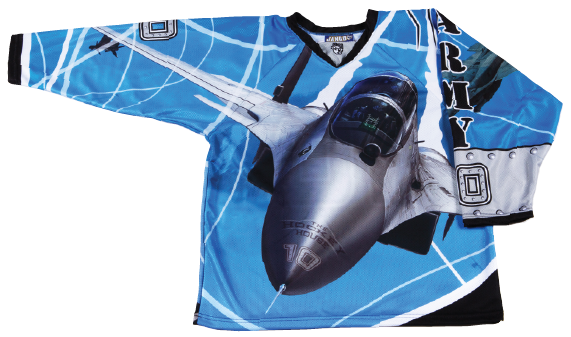 The Langley Army team's jet jersey
Randy: "The Langley Army jersey was a real challenge, as this was the first time that I had to line up a photographic image across seams. The graphic placements had to be perfect in order for the right wing of the jet to cross from the front of the jersey onto the sleeve. The customer even wanted individual player numbers to be mounted on the front of the jet, so I had to manipulate each number to appear as if they followed the curve of the jet's nose."
If you're going to go with a photorealistic design, you'd better use sublimated jerseys as they're the only way to do this sort of thing.
What's Cool About This Jersey:
The jets have custom numbers printed on the nose

The jet wing transfers across the seams perfectly

It's a photographic picture

It's a friggin' jet!
The Camouflage Goalie Jersey
"The stealth goalie jersey was something that would not have worked if any shortcuts had been taken. I had the customer send in images of the goalie nets from their home rink in British Columbia, and I matched the images of the net and the dinged-up rink boards. The customers really appreciate these details, and it makes their designs work."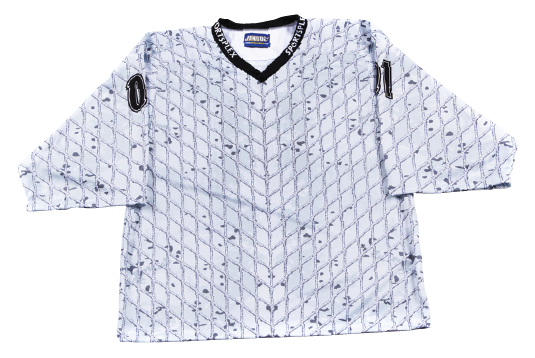 The invisible goalie jersey design
What's Cool About This Jersey:
It's textured to look like a hockey net

The black spots spimulate the porous texture of a rinkboard

The design is meant to "camouflage" the goalie wearing it
Jango Sportswear Catalogs
Few people have dedication to their craft the way Randy does. He was so committed to making catalogs that stood out that he turned his mascot (his dog) into a superhero, creating a full comic series for his marketing materials.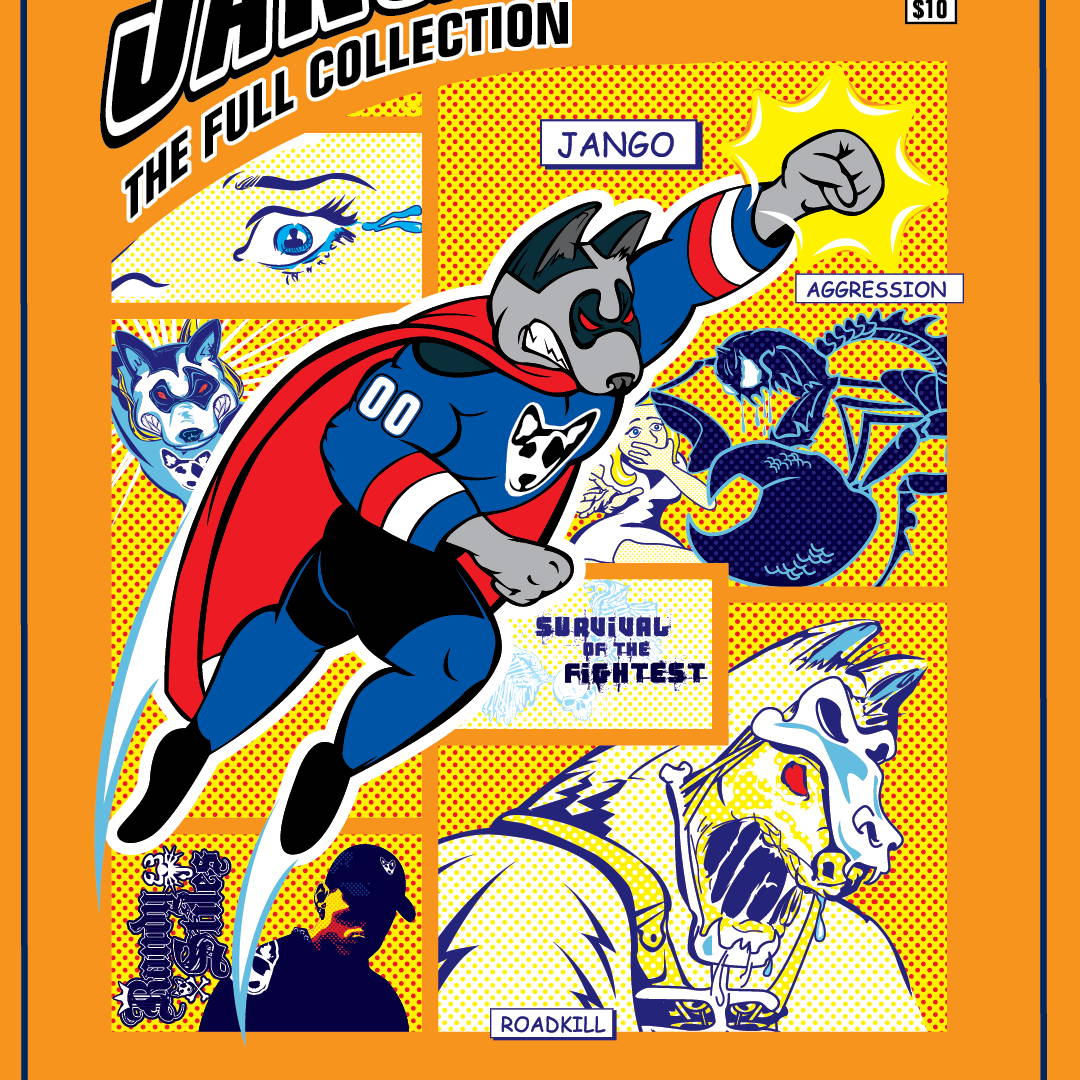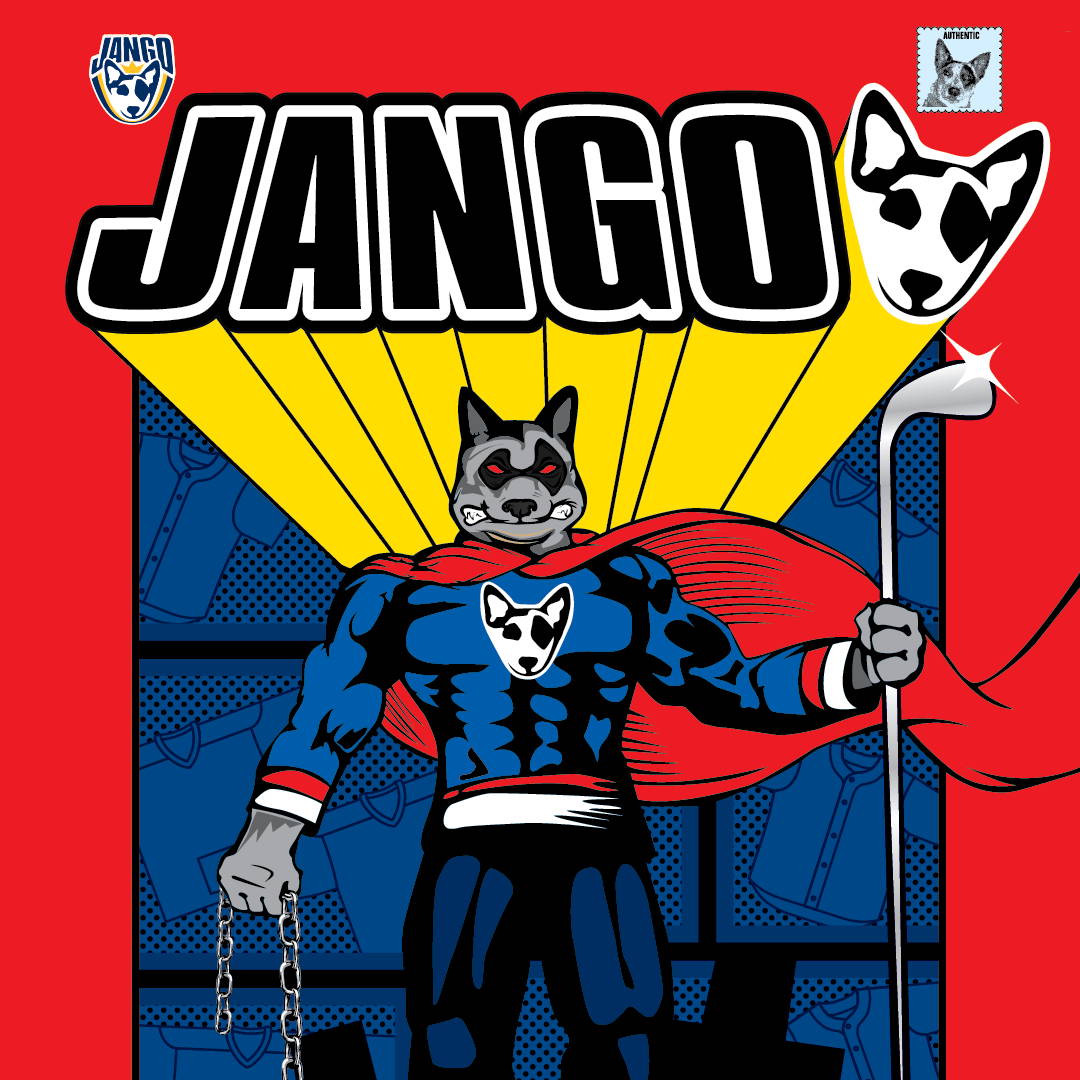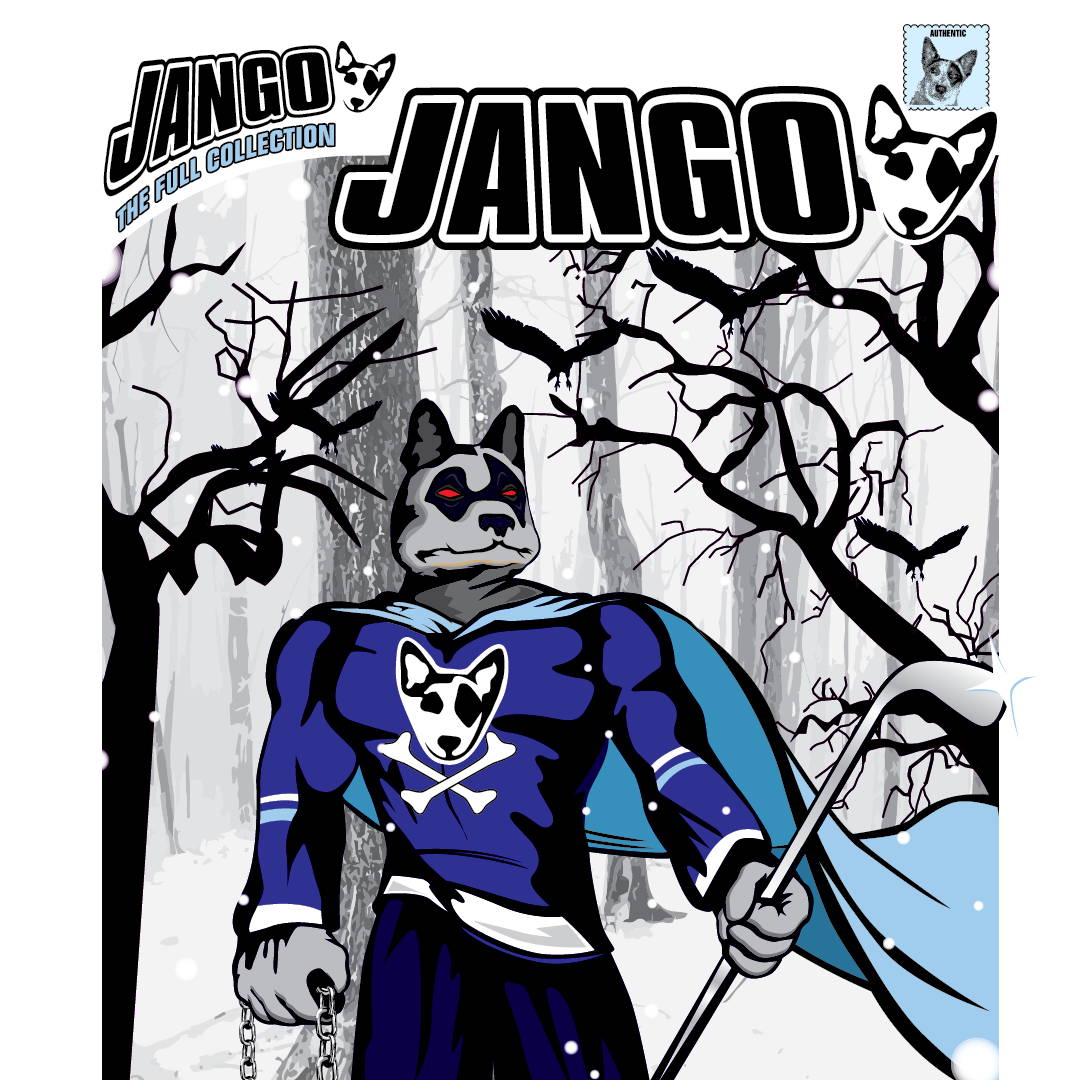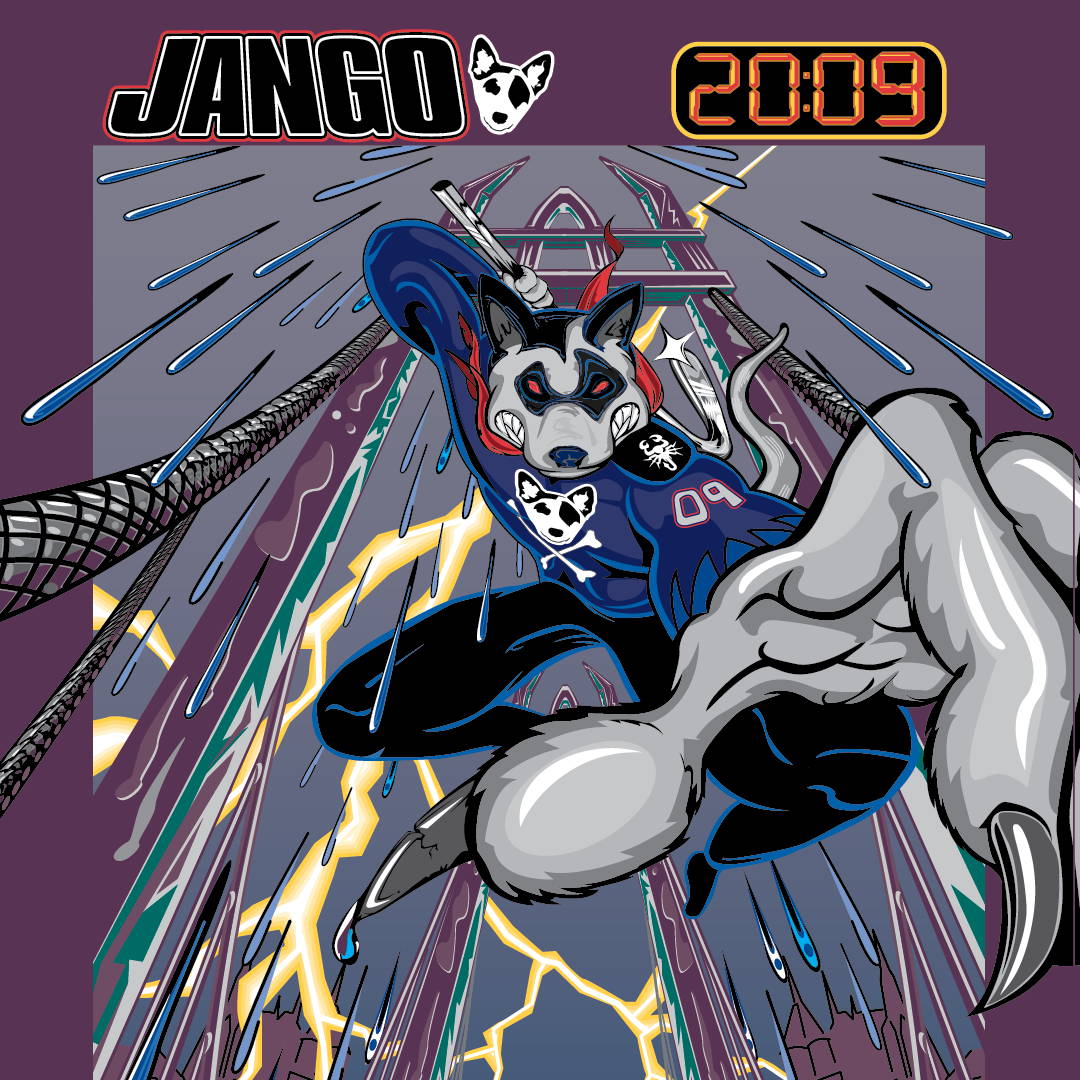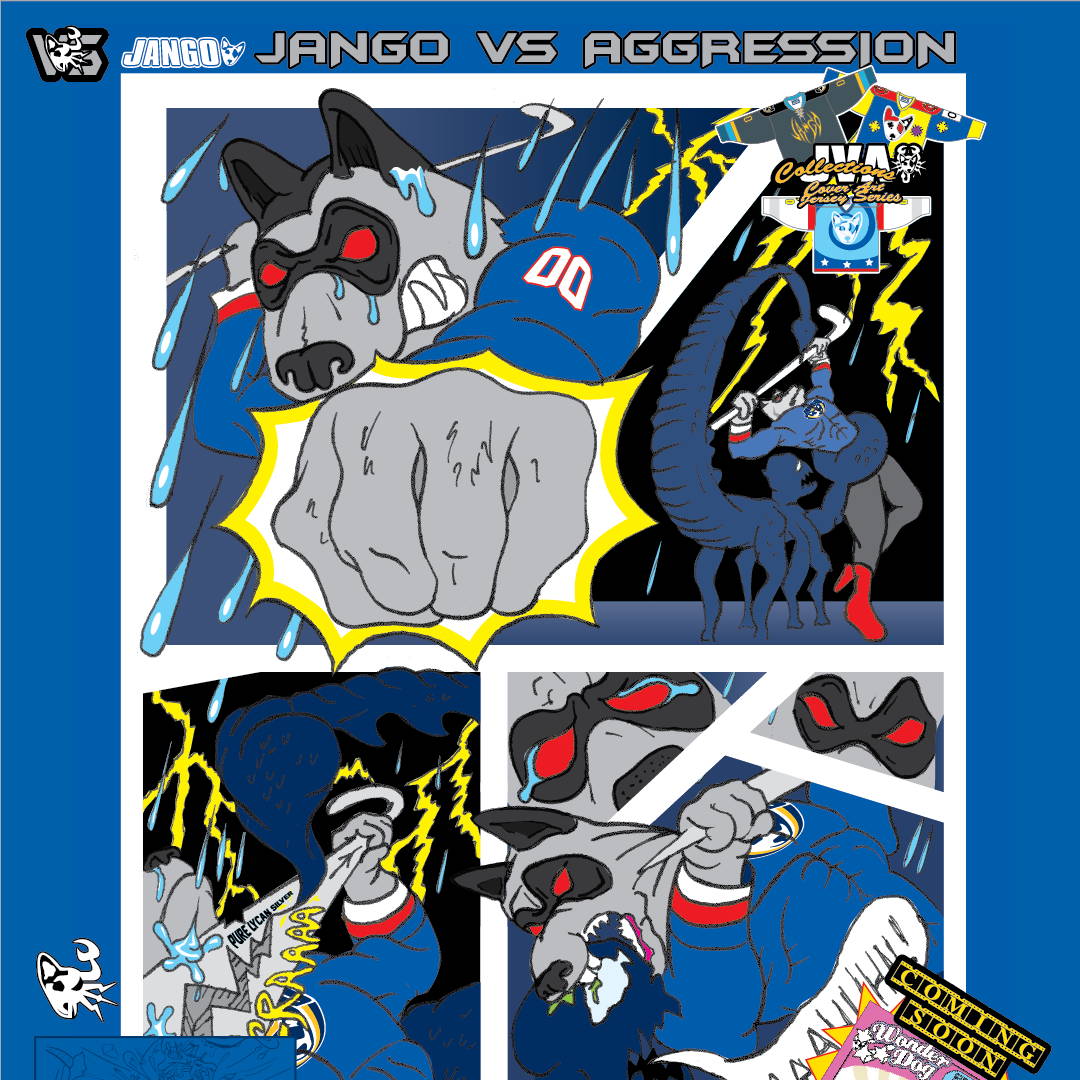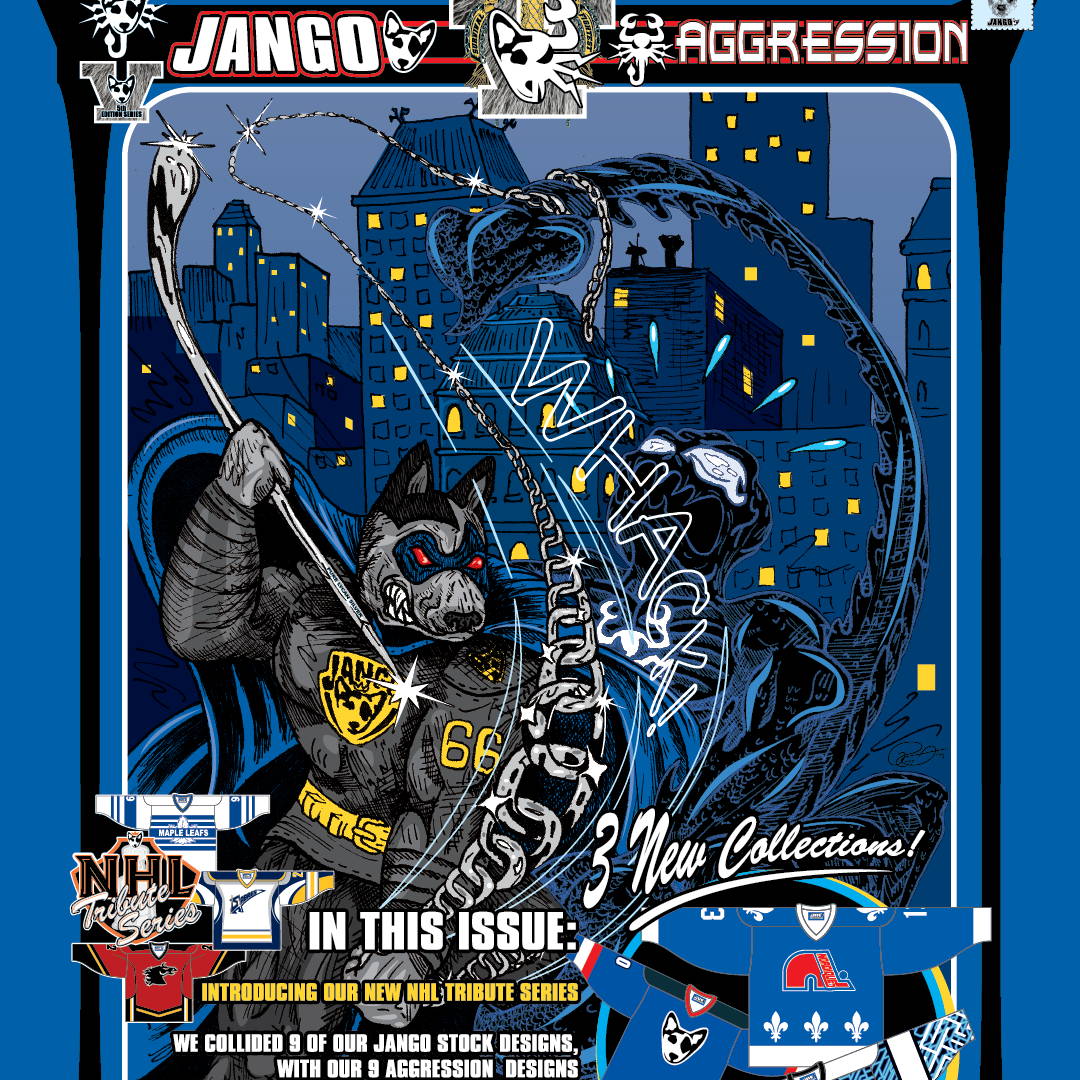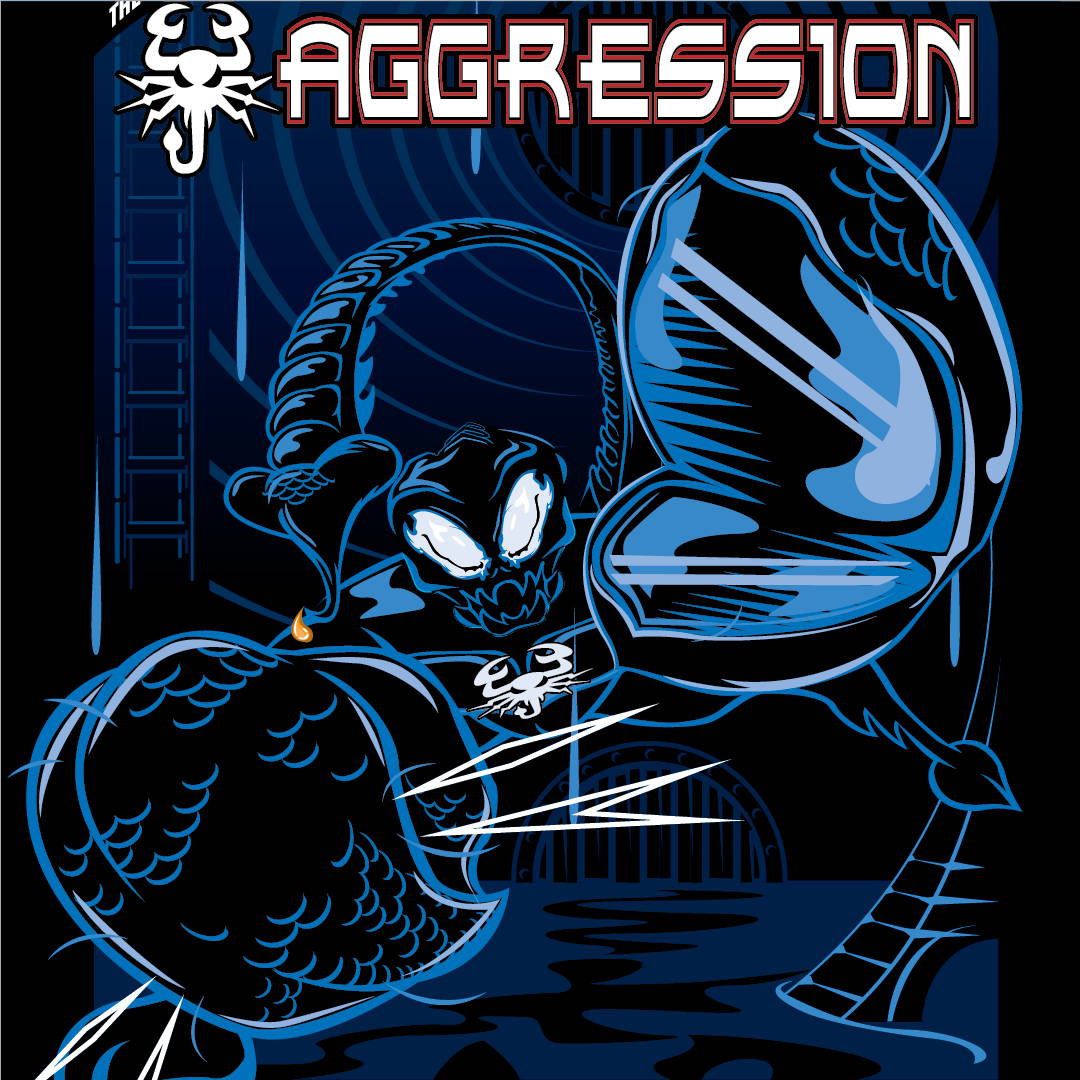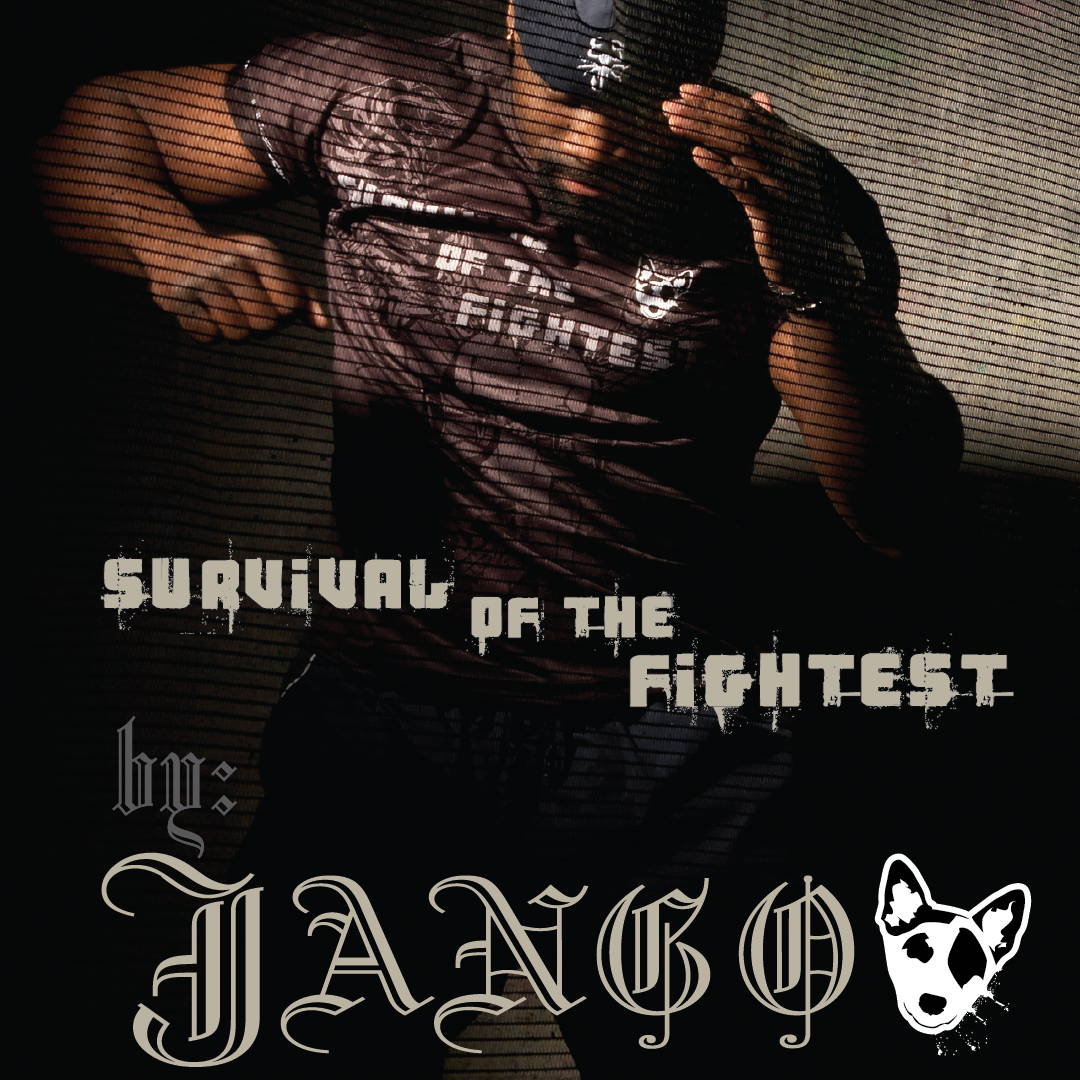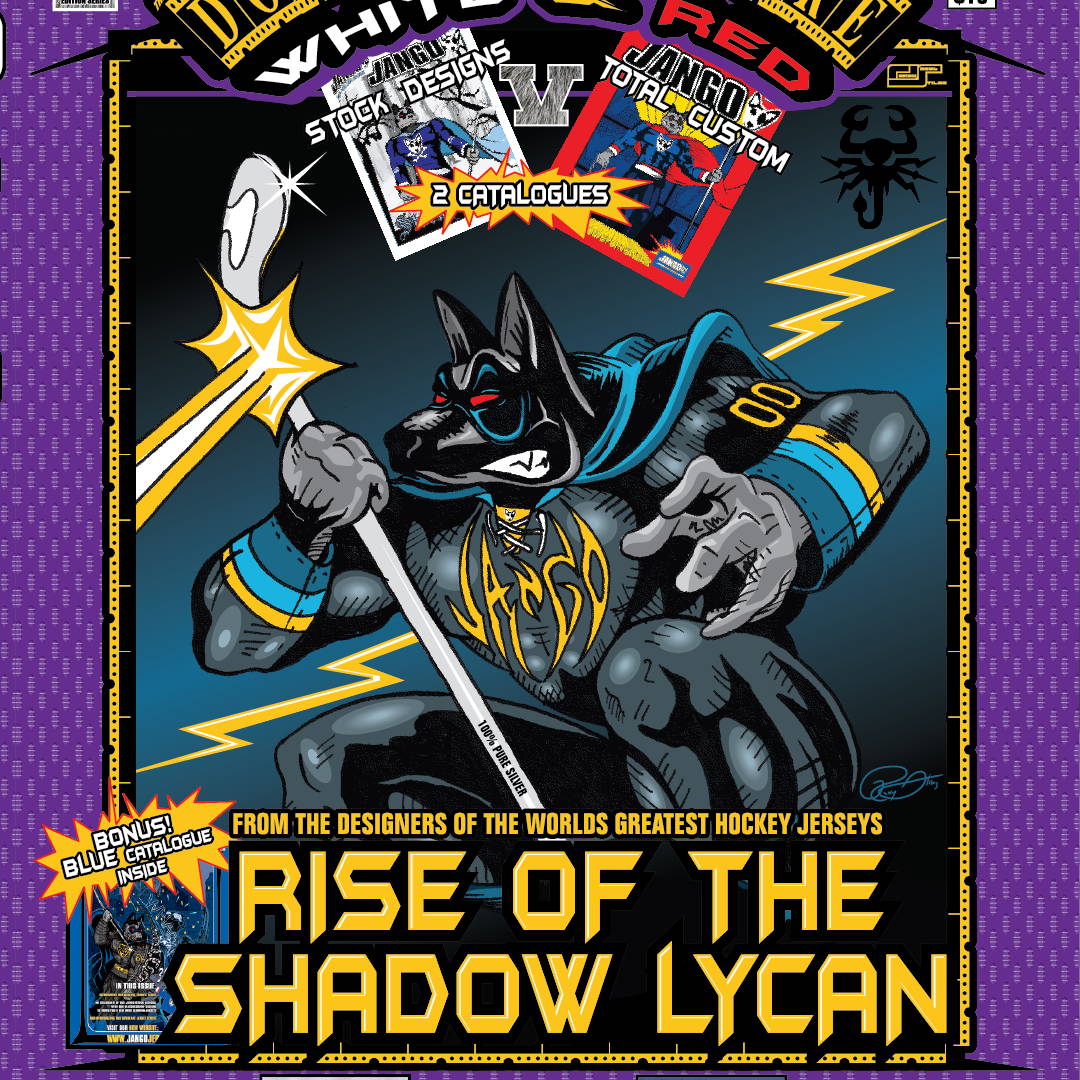 You can see why we're excited to have Randy join our team. Scroll down to see more of his designs. Click the button below to get a quote for sublimated jerseys, and include a note in your order if you want to have Randy work on your jersey designs!
Flip Through More of Randy's Designs