Here's Our Top 10 Best Baseball Jerseys of All Time
These designs are unique and one-of-a-kind, created by our graphic designer Randy who has 20+ years of experience. If you want to know more about Randy and his work, check out his introduction blog where you can see even more of his designs.
The jerseys on this list are all sublimated, which is a style that allows for complete design freedom. That's why some of these designs can be as creative and unique as they are. Want to learn more about sublimation? Check out our blog all about it.
---
A Classic Pinstripe Baseball Jersey with a Cool Colour Scheme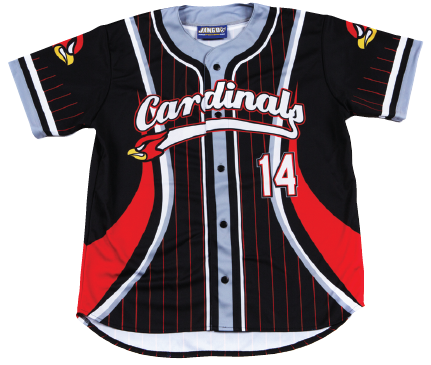 Let's start with a classic pinstripe jersey.
One thing we like about this jersey is the colour scheme - the red, white, black, and light blue go together really well and compliment the logo.
If you've read our blog about logo design, you'll know that this logo checks all the boxes. What's more is it nearly perfectly crosses the button up section, making it look nice and tidy.
This jersey's simple, playful and colourful design makes it a home run on our list.
---
A Videogame Themed Full-Button Baseball Jersey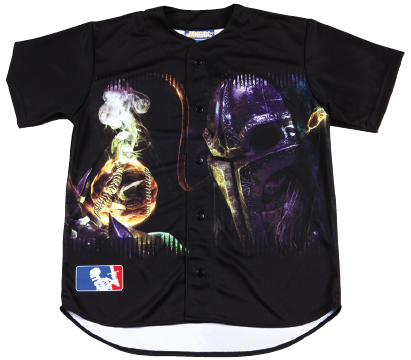 The next jersey on the list is a full button jersey made for the Darkside Baseball team.
The detail on this one is remarkable. You can even see scratch marks and lighting effects on the helmet.
The customer asked for the ball of flames in the figure's hand to be replaced with a flaming baseball, which is a cool detail. They also changed the MLB logo, which has a skeleton with a sword in place of a player with a bat.
Pretty unique design that would stand out on the field.
---
A Rugged Pull-Over Baseball Jersey with a Textured Background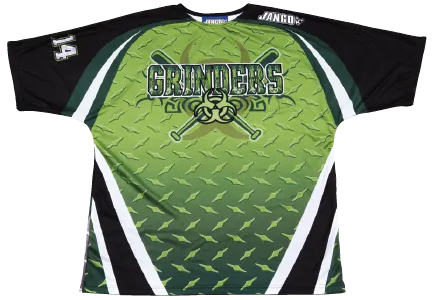 Next on our list is this jersey made for the Grinders team. Our favorite part about this design is the grip plate background, which fades from light green to darker green. The texture makes the jersey look tough, and paired with the font that looks like it's straight out of a Ford F-150 commercial, this jersey pulls off a pretty rugged aesthetic.
---
A Classic Pinstripe Baseball Jersey with a New York City Background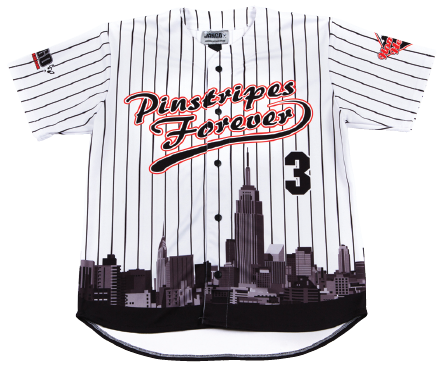 This next jersey has got to be our favorite. It goes for a classy, yet modern look by combining the traditional pinstripe pattern with a New York city skyline.
The practice of adding a city skyline to the bottom of jerseys was pioneered by Randy, our in-house designer. Since he first tried this idea, it's become popular because of how cool it looks.
---
A Unique Baseball Pull-Over Jersey with a Backstop Background
Take a look at the background on this one and you'll see it's textured like a backstop fence. It's nice that this feature doesn't stand out too much, otherwise the jersey would look too busy.
On top of that, the baseball stitching pattern looks pretty cool and fits in nicely with the rest of the jersey.
---
A Captain America Themed Full-Button Baseball Jersey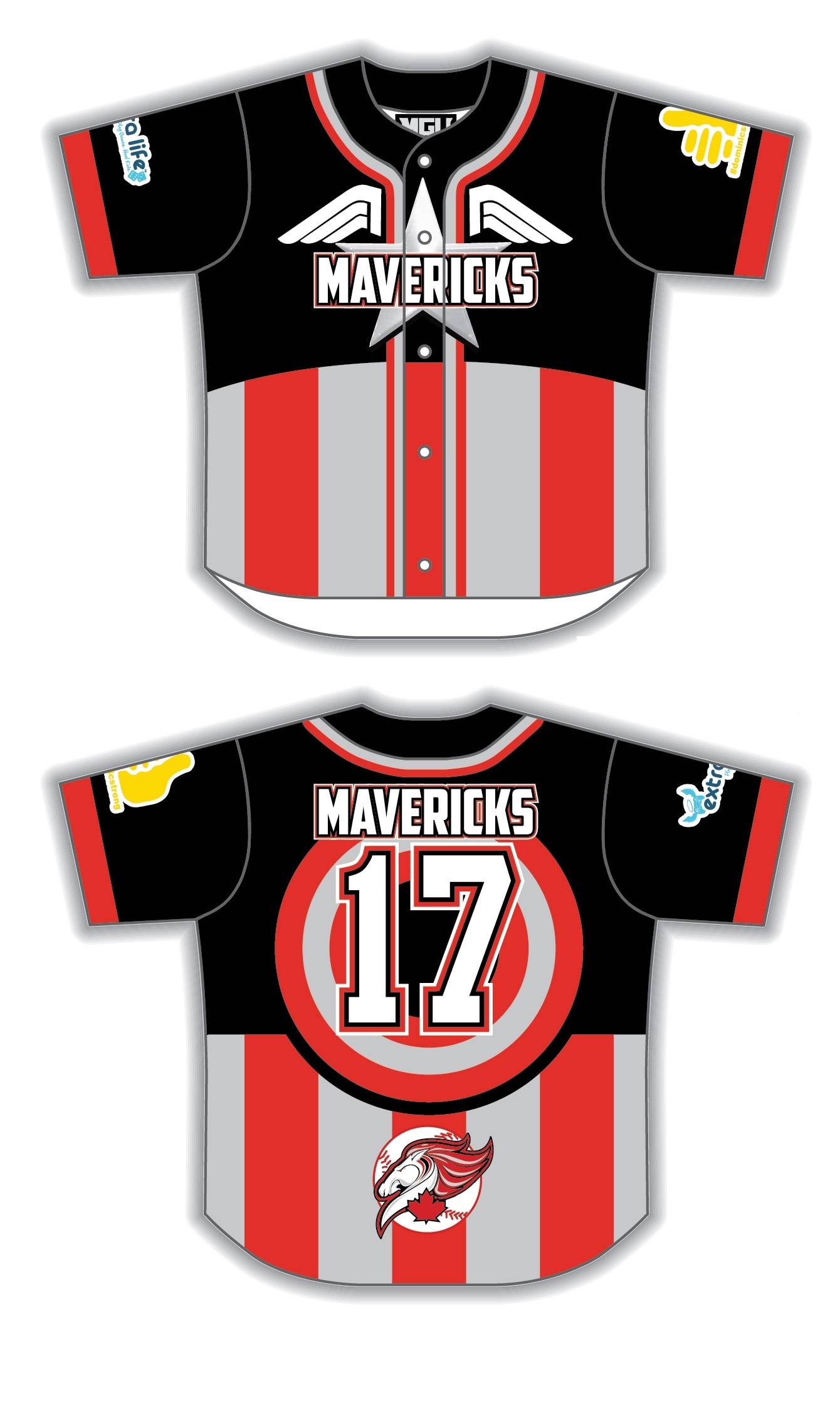 Who wouldn't want to sport Captain America colours on the field? That was the goal here, and it looks awesome.
The red, grey and dark blue colours are an instant reminder of the comic superhero, as well as the shield on the back.
This team also named themselves after the old baseball team, the Mavericks.
---
A Snake Themed Full-Button Baseball Jersey
---
An Intimidating Bulldog Themed Jersey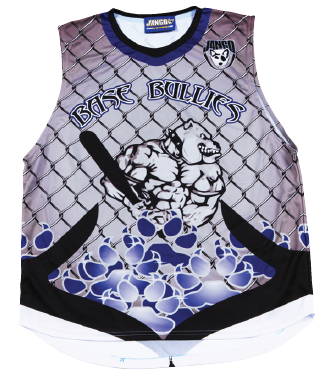 This Base Bullies team jersey is certainly one of the coolest on the list.
The blue paws on the bottom are coloured with a fade effect that blends them nicely with the white background and matches with the blue collar.
The other cool feature included is the fence backstop in the background, which kind of goes with the bulldog theme.
---
A Snake Themed Jersey with a Scaley Background and a Green Python
---
A Great Jersey for Parties with a Bit of Custom Stylization
This is a cool rendition of a sleeveless pinstripe jersey. This jersey takes a classic two-tone pinstripe jersey and modernizes it with creative use of striping.
The font used to spell Gull Lake is also kind of cool – its curvy design pairs well with the wavy stripes on the rest of the jersey. Not too much going on here but sometimes simple is better!
---
We hope this list can serve as inspiration for your own jerseys. Click below to get a free quote if you're looking for a set!
---