So, you've got a team together, and you're playing in a beer league this season. You want to make a cool logo for your team but don't know how to use techy software like Adobe. Where do you look?
In this blog, we'll run you through some free and paid options for making a logo without having any graphic design skills. There are so many apps like this out there, so we've distilled the list down to 5 to make it easier for you to choose one.
If you're new to logo making, here's a blog that'll show you the do's and don'ts of creating a sports logo.
Examples of products we've created for hockey teams across Canada and the United States
---
A Logo Making Software on Desktop and Phone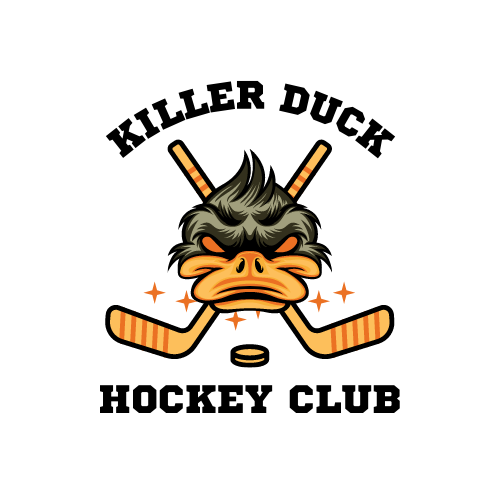 A logo we made using Canva in a matter of minutes
Canva is a well-known graphic design software that's mostly used by businesses, but it's great for this purpose.
You can use this software on a desktop or a phone which is a plus. The app is super easy to use and has lots of hockey related templates you can pick from and edit.
Canva offers a variety of fonts that would look great as a team name banner, and their list of photos and graphics is endless.
What's more is Canva offers a free trial for 14 days, so there's no need to spend anything if you cancel before the deadline.
Here is a logo that we created in canva for the imaginary team, the "Killer Ducks".
A 1 minute video showcasing how we made this Killer Ducks Logo with Canva
Pros:
Mobile or desktop compatible

Intuitive to navigate

Lots of hockey themed templates
Cons:
Costs money (unless you use the free trial)
---
2. PlaceIt Logo Templates
A Paid Hockey Logo Maker Available Only on Desktop
PlaceIt is a website that's best used on desktop. It uses a simple system that offers you hundreds of templates to pick from. Just click on the "logo" tab and then click "sports", and "hockey". What you'll see is a ton of templates for hockey logos, including simpler, stock logos along with more complex ones like the walrus logo we made.
The colour customization is simple - you have the option to change the colour of the components in the image.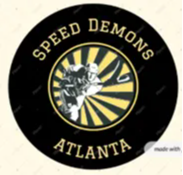 Atlanta Speed Demons logo made on PlaceIt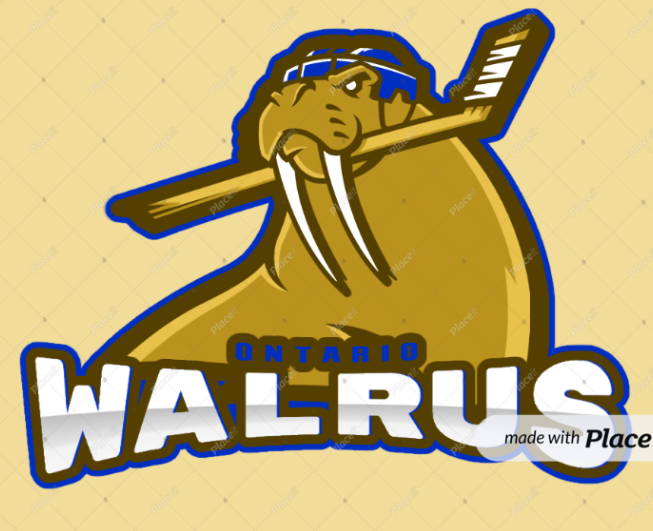 Team Walrus logo made on PlaceIt
The level of customization depends on the template you choose. For example, the walrus' body colour can't be changed, but its outline colour can be.
Our favorite part about this software is how it blends shapes together. No matter what you write, the image and text outlines (ex. The blue outline of the walrus logo) will seamlessly blend to make the image look clean and cohesive.
PlaceIt is available for $7.47 per month, so if you want to buy a subscription for one month and then cancel before it rebills, it's probably worth it.
A 1 minute video showcasing how we made this Team Walrus logo with PlaceIt
Pros:
Lots of hockey themed templates available

Very intuitive customization
Cons:
Sometimes customization is limited, depending on the template you choose

It's a paid software
---
A Free Logo Maker with Plenty of Cartoon Graphics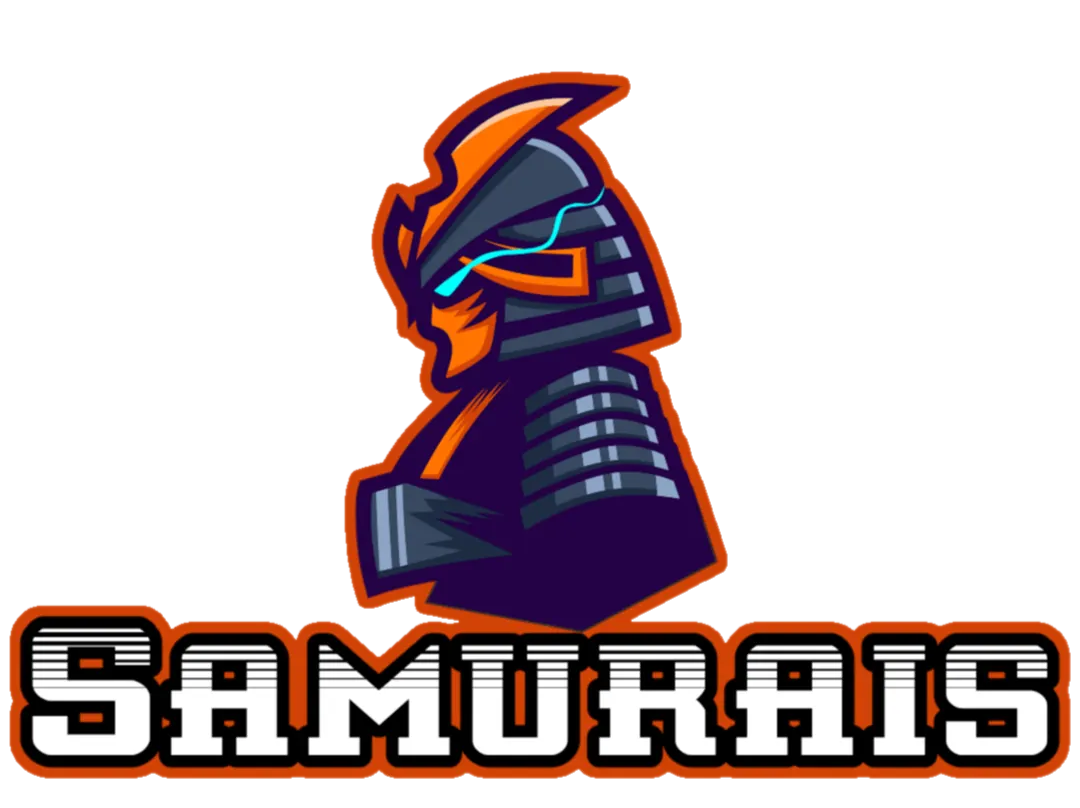 A samurai themed logo we made with this app
This app is meant to be used for E-Sports logos, but it's actually a great app for hockey team logos. There are tons of cool images that would make great team logos. The templates include themes like animals, monsters, dinosaurs, ninjas, knights, and skulls. What else could you need?
The upside of this app is it's super simple, all you have to do is pick your logo from the many templates, and then input your team's name.
The downside is that there's very little to no customization of colours, font and image positioning. So, if you've got an idea in mind that's specific and personalized, this app is probably not going to cut it for you.
More good news though, it's free. Just download the app and it lets you download high resolution images straight from the app. Here's a sweet samurai logo that we made in-app in about 20 seconds.
A 1 minute video shocasing how we made this Samurais logo with the E-Sports Logo Maker app
Pros:
It's all done for you

Lots of good quality templates to choose from

Completely free
Cons:
No customization other than the team name and the outline colours
---
4. Logo Maker by Apps You Love
A Free Hockey Logo Maker App with Complex Hockey Graphics
This is another free app that has some great hockey assets to offer. What we like about this app is the great organization of all the assets. Just search "sports" under "graphics" and then scroll down to the hockey section - it's that easy.
You can also change the colour and font (of which there are many) of your text, and use "patterns" to fill in the text to make it interesting.
The app is riddled with ads, but you can download images for free. Your download will come with a watermark, but we can remove that for you for no extra charge.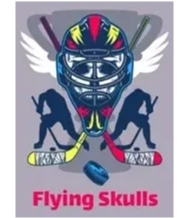 A logo we made using this app
Here's a sweet hockey logo we threw together using this app. You'd definitely want to go with sublimation for this kind of logo since it has so many colours. Get a quote for sublimated jerseys here if you're currently looking for a set.
Pros:
Has really unique hockey graphics

Free for the most part
Cons:
Lots of ads

The graphics don't have text boxes (you have to add text yourself)
---
5. Logo Maker by CA Publishing
A Paid Logo Maker App with Lots of General Graphics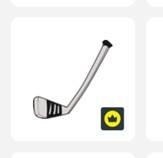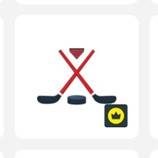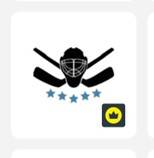 Assets/templates available on this app
This app is lacking a bit in the hockey graphics department, but it's still worth checking out. They have tons of other kinds of graphics that you could use for your logo too. They also have easily changeable fonts and text colours.  
The downside to this app is that you can't access most of the graphics without paying.
Take a look at some of the hockey assets available.
Pros:
Easy to use

Has lots of graphics available for use
Cons:
Graphics are behind a paywall

Not a huge selection of hockey graphics
---
If you're going to use one of these apps for your logo, keep in mind that there are limitations to the amount of colours you can include in your logo depending on what type of artwork you choose. Take a look at our blog about artwork styles to see which style will work for you.
We hope that you found this article helpful. If you've made your logo and are ready to bring it to life, click the button below to get a free quote.