Before Ordering Your Baseball Team's Uniforms You Need a Team Name!
Examples of products we've created for baseball teams across Canada and the United States
---
Ordering jerseys for your baseball or softball team is a process. It's not like picking up a few extra balls or bats at the sporting goods store: you need a logo, team colours, sizing, payment from the squad (arguably the most important part), some time for us to print and ship them...but it all starts with a team name. No team name = no uniforms, sorry boys and girls!
Now, we didn't want to baffle you with one of these annoying lists where you scroll through hundreds of names not knowing where to stop. Just like we try to do when you're ordering your jerseys, we've tried to make it easy by breaking these names into sub-categories. There's a time and place for every team name: you wouldn't want your youth ball team named "Just the Foul Tips", but sometimes your beer league team needs to spice it up a bit more than something generic and overused like "Tigers" or "Royals".
To help you navigate the below lists here is what to expect in each category:
Pro team names: nicknames used by current or former MLB teams (when you want to be traditional)
Minor league team names: nicknames used by A, AA, and AAA teams (when you want to sound like a serious ball club, but also stand out with something more unique)
Traditional team names: more names we generated that follow the usual "serious ball club" vibe
Classic beer league softball team names: fun names you probably wouldn't use for a more competitive ball club
Creative/funny softball team names: similar to classic team names, but a bit more clever (at least we think)
Beer-related team names: when you can't resist a good beer reference
Women's team names: a few names specifically designed for the ladies!
Dirty/NSFW team names: for teams who like to push the envelope with their convenor
Pop culture references: there's more than a handful of baseball movies out there
Babe Ruth references: when you want to pay yours respects to the GOAT
Fantasy baseball team names: usually a reference to an MLB player
---
Can you call yourself a baseball fan if you don't already know these?
Important note if you're ordering jerseys for your rec team with one of these team names: you cannot rip off their logos exactly. It's illegal without proper permissions. What you can do though (and we're more than happy to help at no extra charge) is make tweaks to the logo to make it a unique design!
Brewers
Pirates
Jays
Cardinals
Braves
Yankees
Red Sox
White Sox
Angels
Indians
Tigers
Royals
Astros
Twins
Athletics
Mariners
Rays
Rangers
Expos
Diamondbacks
Reds
Cubs
Rockies
Dodgers
Marlins
Brewers
Mets
Phillies
Nationals
Padres
Giants
---
Minor League Baseball Team Names
Yes, they're real, and they're spectacular! Weird? The weirder, the better in our books! Look 'em up if you don't believe us!

Important note if you're ordering jerseys for your rec team with one of these team names: you cannot rip off their logos exactly. It's illegal without proper permissions. What you can do though (and we're more than happy to help at no extra charge) is make tweaks to the logo to make it a unique design!
The JerseysMadeEasy.com Team Favourites:
Blue Wahoos

Sod Poodles

Saguaro (it's just a type of cactus - who knew?!)

Rubberducks

Yard Goats
Thunder
Shuckers
Barons
Lookouts
Generals
Jumbo Shrimp
Braces
Biscuits
Blue Wahoos
Trash Pandas
Smokies
Poodles
Travelers
Hooks
RoughRiders
Rockhounds
Naturals
Cardinals
Drillers
Sod Poodles
66ers
Storm
JetHawks
Nuts
Quakes
Giants
Mudcats
Wood Ducks
Woodpeckers
Keys
Nationals
Hillcats
Pelicans
Red Sox
Blue Rocks
Dash
Marauders
Stone Crabs
Threshers
Tortugas
Blue Jays
Fire Frogs
Mighty Mussels
Hammerheads
Flying Tigers
Cardinals
Mets
Tarpons
66ers
Storm
JetHawks
Nuts
Quakes
Giants
Ports
Rawhide
Snappers
Green Hot Rods
Bees
Kernels
Lumberkings
Dragons
TinCaps
Loons
Cougars
Captains
Lugnuts
Chiefs
River Bandits
Cubs
Whitecaps
Timber Rattlers
Tourists
GreenJackets
RiverDogs
Fireflies
Shorebirds
Grasshoppers
Drive
Suns
Crawdads
Cannon Ballers
BlueClaws
Legends
Braves
Power
IronBirds
Doubledays
Muckdogs
Cyclones
Renegades
Spinners
Scrappers
Unicorns
Spikes
Yankees
ValleyCats
Lake Monsters
Black Bears
Crosscutters
Hawks
Emeralds
Aquasox
Hops
Volcanoes
Indians
Blue Devils
Canadians
Cowboys
Train Robbers
Whiptails
Wind Surge
Yardbirds
Amberjacks
Invaders
Fuego
Triggers
Saguaros
Reserves
Pupfish
Sea Dogs
Fightin Phils
Flying Squirrels
---
Traditional Baseball Team Names
Want to sound like a serious ball club? Here are some more names beyond what you'll find in the pros that have that baseball "ring" to it.
Chiefs
Sting
Mustangs
Generals
Black Sox
Admirals
Renegades
Capitals
Selects
Predators
Heat
Smoke
Aces
Reapers
Gremlins
Gators
Axemen
Falcons
Monsters
Legends
Dukes
Hammer
Outlaws
Redmen
Stix
Force
Merchants
Bandits
Hawks
Knights
Bullets
Deuces
Jacks
Diamond Jaxx
K-Men
Magicians
Sluggers
Chuckers
Fireballers
Phantoms
Matadors
Sharks
Bulls
Hounds
Wildcats
Kraken
Kolts
Blaze
Kings
Mad Dogs
Classics
Klassics
---
Classic Beer League Softball Team Names
Take a break from boring, overused baseball team names and let the fans know you're here for the fun (and potentially the beer).
Champs
Bomb Squad
Brew Crew
Chew Crew
Heavy Hitters
Hammer Time
Screwballs
Thundersticks
Crushers
Big Leaguers
Sluggers
Boomsticks
Bombs Away
Batmen
Weekend Warriors
Heaters
Worm Burners - definition here
Daisy Burners - see "worm burners"
Split Fingers - could potentially work in the "dirty" category as well
Bombers
Around the Horn
3 Up, 3 Down
Bottom of the Ninth
Bazookas
Bloopers
Dinger Machines
Frozen Ropes
Lights Out
Moonshots
Slap Bunts - another potentially "dirty" team name
Boys of Summer
Beanballs
The Cycle
Gappers - we're picturing a toothless grin as a logo
Knuckleballers
Corner Painters
5 Tool Players
The Spares
Pop Flies
Golden Sombreros - just in case you haven't heard that term
Hot Corners
Meatballs
Mendoza Line - more baseball lingo for ya
Ribbies - (that's RBI's for you rookies) - what about a frog logo?
Cooperstown Crew
Extra Frames
Gyroballs
Bushleaguers
---
Creative and Funny Softball Team Names
Bat Attitude
Chin Musicians
Cans of Corn
Clean Up Crew
Hit-And-Runs
Signal Stealers
The Bunt Cakes
3rd Base Bullies
Minimum Wagers
Juan of a Kind
Belly Itchers
Sultans of Swing
Kings of Swing - if you're a co-ed team you may raise some eyebrows with the suspicion you're trying to make a pun 🤨
Line Drivers
---
Beer-Related Softball Team Names
When your third base coach's signals revolve around brand of brew at the bar instead of bunts and steals.
Boozehounds
Here For Beer
Bad News Beers
Suds and Buds
Fear No Beer
Juicers - Could mean steroids or booze, ya get it?
Loaded
AA Ball Club - A great pun for both Alcoholics Anonymous and AA Minor League Baseball
Drink For The Cycle
Nightcaps
Mighty Drunks - We've done jerseys for more than one "Mighty Drunks" team for our baseball and hockey customers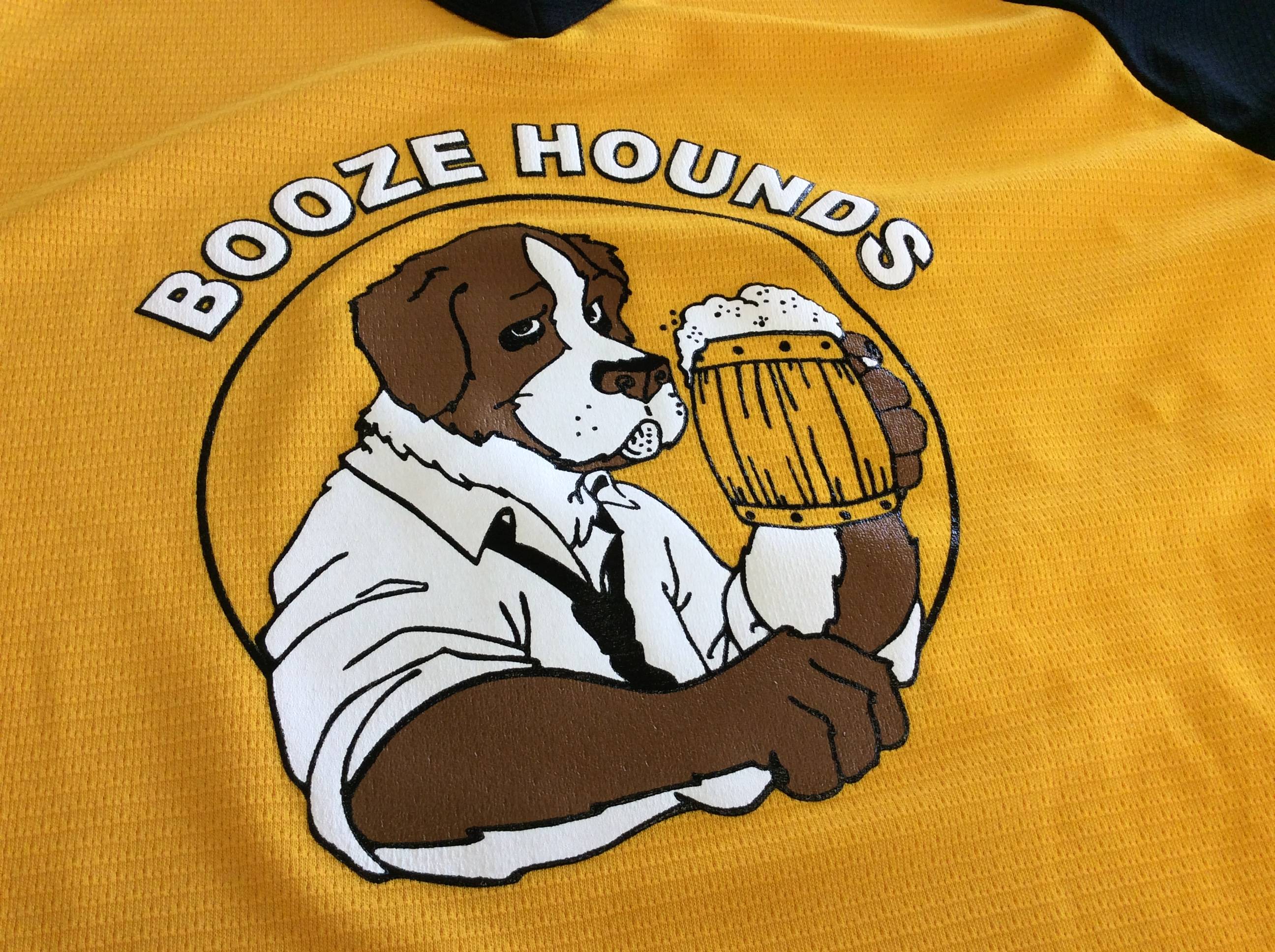 ---
Women's Softball Team Names
While competitive ladies' squads may choose to go the more traditional route with a name like the "Cobras" or the "Kolts", beer league ladies may choose to have a bit more fun (and they should!).
Victorious Secret
Leather and Lace
Queen Bees
Pink Sox
Diamond Divas
Beerly Legal
Ponytail Express
She Devils
Basic Pitches
Chicks with Sticks
Wonderwomen
Vibe Raiders
---
Dirty Baseball Team Names (NSFW)
NSFW = not safe for work, for you non-regular internet-goers. It also may not be safe for your league: more than a handful do like to keep it "PG". That said, if you must, here are some of the best (or worst, depending on how you look at it) dirty softball team names.
Balls Deep
Yank-Deez
I'd Hit That
Quit Your Pitching
Caught Looking
Master Bunters
Ump Yours
Bat Intentions
7th Innings Kegals
Upper Deckers
Three Baggers
Dead Balls
Deep In The Count
Junkballers
Doubleheaders
---
Baseball Team Names With Pop Culture References
Alright you ragtag bunch of misfits! Who doesn't appreciate a good pop culture reference? Most of these are odes to baseball-related movies, but we threw a few others in there for good measure.
Bad News Bears
Samsquanches (not a baseball reference, but see below)
Isotopes (Simpsons, duh)
Benchwarmers
Wayne's Hardware (the Benchwarmer's opponents)
Beers, Burgers, Baseball (explanation below)
Sandlot
Kekambas (Hardball, because Keanu is a legend)
Shoeless Joe's (not a movie, but a reference to Shoeless Joe Jackson, who now has a restaurant chain named after him)
Rockingham Ruckus (Eastbound and Down)
St. Louis Wolves (from the classic comedy sketch, "Who's on First?")
Lukash Dairy (A League of Their Own)
Staten Island Stevedores (A League of Their Own)
Peekskill Parks (A League of Their Own)
Durham Bulls
The Replacements (Not a baseball movie, but works for any sport, really)
Beers, Burgers, Baseball explanation

Meant to be a reference to "Bears, Beets, Battlestar Galactica" from The Office. I came up with this name, however, because an old teammate told me, "There are 3 B's in life: beers, burgers, and baseball." The man had his priorities figured out.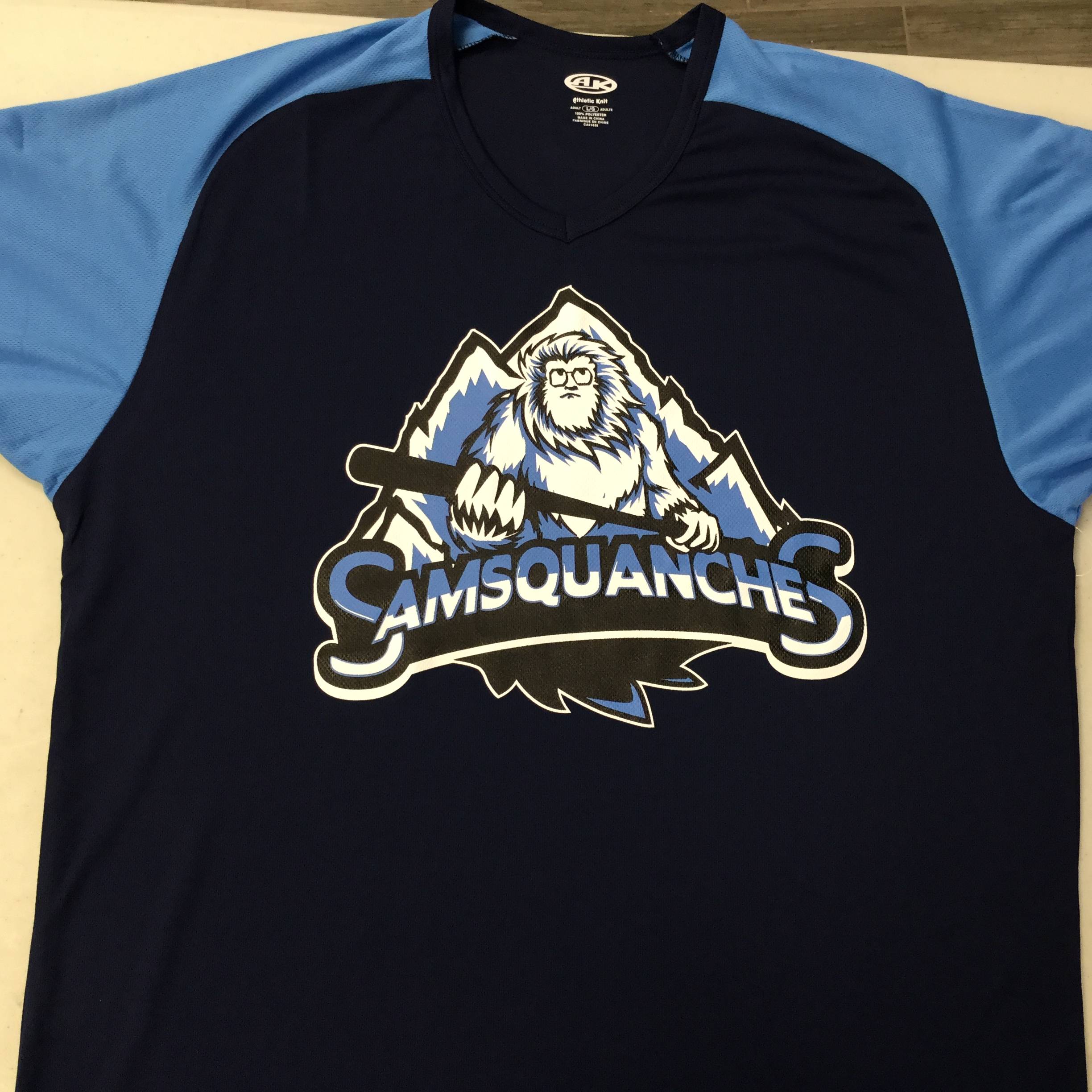 ---
Baseball Team Names Referencing Babe Ruth
The Great Bambinos
The Colossi of Clout
The Sultans of Swat
The Big Bams
The Behemoths of Bust
The Wazirs of Wham
The Maharajahs of Mash
The Rajahs of Rap
The Mammoths of Maul
The Princes of Powders
The Kings of Crash
The Kings of Swing
The Terrible Titans
---
Fantasy Baseball Team Names
Okay, so these may not work well for creating a logo for a baseball team uniform, but maybe you found this page because your ball game is one that's online. Here's the best we could come up with.
Angels in the Troutfield
Lawn Mauers
Kershawshank Redemption
A-To-The-Rizzo
Bartolo Colon-Oscopy
99 Problems and a Pitch Ain't One
No Use For a Name
There's Always Next Year
Ethier Said Than Dunn
Stuck in the Middle With Yu
The Price is Wong
Two Wongs Don't Make a Wright
Zach Brexit
Upton Express
Signal Stealers
Giancarlo, Formerly Mike
Beane Balls
Trevor Bauer's Paintball Squad
Trevor Bauer Drone Pilots
Edwin's Parrots
Upton Yours
Stroman Troopers
All for Dunn, Dunn of rAll
Smoak Bunts
Lincecum Shots
Dotel Me It's Over
Mookie and the Blowfish
Maeda Pun
Machado About Nothing
Hate Us Cuz Yoenis
Syndergaardians of the Galaxy
Fister? I Harvey Cano Her
Mookie Montsers
Syndergaarden Cop
Hold Me Close Ohtani Dancer
Final Fantasy Baseball
Boys of Summer
Twist and Trout
What Would DeJesus Do?
For Shizzo My Rizzo
Desmonds Are Forever
Smoak On The Water
Have other ideas for baseball team names we haven't listed? Comment below!
Looking for custom baseball jerseys, hats, or other uniform products? Let us help you out!
We ship anywhere in Canada and the United States